Whether it's coffee, falafels, tacos, or classic American burgers, Knoxville, TN is guaranteed to have something for every taste bud at affordable prices. The city is full of locally-owned restaurants unique to the Knoxville food scene. Below are our top Knoxville eats for under $10!
SoKno Taco
SoKno Taco Cantina, a locally owned taco restaurant located in beautiful South Knoxville, Tennessee. They provide a SoCal/Street Style taco menu with 24 beers and house margaritas on tap. They have a lunch deal served 11-3 daily. The special has two options a breakfast burrito with three scrambled eggs, pico de gallo, shredded cheese, and featured meat. The second option is any two tacos with chips and salsa. Either option is only $4.99 so you could double up and still be around $10! The taco special is also available all day on Tuesdays Taco Tuesday. 
Sam & Andys
Sam & Andys a locally owned Hamburger restaurant located in Fountain City that was established in 1946. Known for great desserts that are handcrafted each day to ensure a fresh experience for the customer. They are open daily Monday-Saturday 11 am-9 pm and Sunday from 11 am-3 pm. One of Sam & Andy's top sellers, named in honor of the UT Volunteers, is the Vol Burger, a classic cheeseburger. Another top seller is the Hickory Burger, a classic burger topped with Hickory Smoked Bacon, Smoked Cheddar Cheese, and Bar-B-Que sauce. Lastly, all prices are reasonable. You can call on the specials every day which is a good thing to have about a restaurant. You might also see a special Volunteer around the restaurant – Sam & Andy's is home to some of Peyton Manning's favorite lunch deals in Knoxville.
Yassin's Falafel House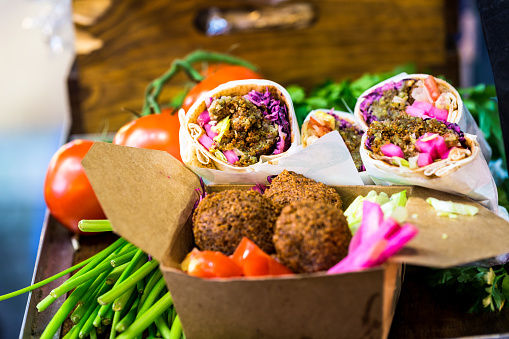 Yassin's is a great place to try something you don't get to very often. First off Yassin's a Mediterranean joint that is family-owned and run, was opened in 2014 and has been very successful ever since. Their restaurant occupies the corner of Walnut St. and W. Church Ave., convenient walking distance from Gay Street and Market Square, and many other downtown landmarks. Lastly, The food available is healthy and fresh like the veggie sandwich seasoned with grilled veggies wrapped in pita w/crisp french fries & our garlicky white sauce for $9.98. Also A perfect place to branch out of the food comfort zone and try something new you just may find out it's the right thing for you!
Double Dogs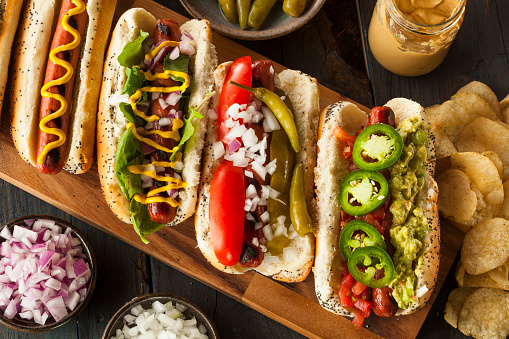 Double Dogs is a must-visit for any sports bar fan. Their menu ranges from specialty Mac n Cheese to their signature hot dogs and everything in between. Try out their Hebrew National Chili Dog – a ¼ pound beef dog with cheddar cheese, onions, and Double Dogs's homemade chili on a toasted bun. Knoxville residents can bring their furry friends to the Pup Patio for a pet-friendly outdoor dining experience. They also have over 100 beers available and multiple large screen TVs, making it a destination for game day viewing. Good food, cold beer, sports, and dogs. What could be better? Visit the Kingston Pike or the Hardin Valley location today!
Pete's Coffee Shop
Located right in the heart of Downtown Knoxville, Pete's is a perfect destination for affordable and delicious breakfast and lunch options. Since 1986, this family-owned and operated restaurant has been a staple for residents and visitors alike. For under $10, guests can enjoy a hearty breakfast with eggs and meats or a savory lunch with burgers and sandwiches. Pete's also features daily specials, which include 1 meat and 2 sides for $8.99! Lastly, Whether it's the start of your day or your mid-afternoon meal, don't miss out on what Pete's Coffee Shop has to offer you.
Gus's Good Times Deli
A Knoxville staple, UT staple, and the pinnacle of college campus cuisine, Gus's Good Times Deli offers a hot meal. Gus's offers an unmatched experience, atmosphere, and history. The deli doors opened on a Friday the 13th in March of '81, the deli has acquired a cult-like following from current UT students, alumni, and even visitors. No matter the time of day, Gus's offers a variety of steamed sandwiches, burgers, grilled cheeses, fries, and fried food for under $10. in addition Just as a customer review stated on Gus's website, Gus's is "an icon of the University of Tennessee." If you're in Knoxville, Gus's Good Times Deli is a Knoxville must.
Make sure you show your Knoxville pride when you visit these restaurants by wearing some of our WearKnox gear. Our tote bags are perfect for taking home leftovers…if you don't eat all of the delicious lunch deals while at the restaurant!